Akram Khan, Barber at Barber & Blade, One&Only Reethi Rah in The Maldives and Alfonso Mata, Master Barber at Barber & Blade, One&Only Palmilla in Los Cabos, Mexico, give you their tips on Male grooming.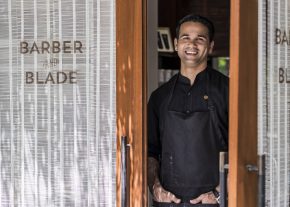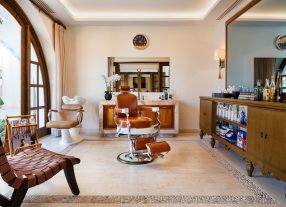 1 - What are your top male grooming products to use at home and why? Are there any in particular that you use at Barber & Blade by One&Only and would suggest purchasing for use at home?
Akram: The products that I always use are a daily shampoo, pre-shave oil, foaming cleanser, exfoliating butter scrub and daily moisturiser. We use Gentlemen's Tonic at Barber & Blade at One&Only Reethi Rah, and I use the products myself as they are designed specifically for male skin and hair.
Alfonso: I believe that all gentlemen should enjoy a shaving ritual experience at home - my most important grooming products are shaving cream or shaving soap, a shaving brush, a double-edge razor and after-shave lotion. At One&Only Palmilla we sell Proraso, a brand from Florence, Italy, which is super easy to use and has a variety of products, depending on the type of skin and the amount of facial hair. It is a recognised and classic brand in the world of barbershop, their soap is prepared in just a few minutes and is definitely the best way to start the day.
2 - Are there any skincare routines that men should focus on more whilst spending time indoors?
Akram: Focusing around the eyes to avoid puffiness and aging is important, I suggest Gentleman's Tonic Hydro Fresh Cream Cleanser and Revitalizing Eye Cream. Both products are great for looking after the skin.
Alfonso: Body and facial exfoliation is really important. How often you should do it depends on your skin type - for oily skin this should be twice a week; for dry, once a week; and for sensitive, twice a month. Putting cucumber slices on the eyes (for roughly 3-5 minutes, but ten minutes maximum), helps to refresh and deflate – it's a classic but it works! Finish by applying a moisturising cream of your choice.
3 - What advice would you give for cutting hair at home?
Alfonso: I would recommend only trimming the sideburns and neck area from home. Hold the ear to the skin and comb the hair of the sideburn area back; trim the hair excess; then re-comb, this time towards the eye and cut the hair excess again. Repeat the process with the other ear. In the neck area, comb the hair from left to right side, then from right to left and cut the excess hair, either with a sideburn trimmer or a razor. This can be done with a mirror and / or the help of a housemate or partner. Hair should preferably be dry when cutting at home.
4- Are there any grooming treatments you don't recommend trying at home, and suggest to wait until you can revisit your barber?
Akram: Threading is definitely something to wait for your barber! It may look simple but getting the right shape for an eyebrow takes quite some technique.
Alfonso: As already mentioned, avoid trimming anything other than the sideburns and neck area if you are cutting hair at home. I would also advise against using a free razor without previous training from your barber.
5- What equipment would you recommend investing in for use at home?
Akram: I believe that every man should own a good quality hair clipper. You'd be surprised at how easy it is to fix up your beard with a hair clipper and then you can also use it for getting rid of any unwanted hair.
Alfonso: The Proraso shaving kit, no doubt!
6 - What are the latest trends in men's hairstyles? Do you have a favourite style to create at Barber & Blade?
Akram: Crew cuts and buzz cuts are the most prominent hairstyle trend at the moment. I personally love a high and tight fade haircut.
Alfonso: My favourite haircut, which in my view is the coolest, but is also one of the most requested, is the Pompadour. It consists of volume in the front part, and it can go with or without a side cut. The classic style, created with scissors only, never goes out of fashion. To create the style at home, use a round or wide-tooth brush and a hairdryer, and dry your hair by brushing it towards the front with a circling movement upwards, then at the end just let it fall backwards. I also find that one of the most popular current trends we are seeing is the high skin fade, styled using the free razor on the sides, to the temple and the nape of the neck..
7 - How can men try to recreate the Barber & Blade by One&Only experience from home as a way to switch off and relax?
Akram: To recreate the Barber & Blade experience from home I would recommend having a relaxing playlist in the background (I personally enjoy John Legend) and a good room scent using an essential oil burner. For the full experience, why not also recreate our signature drink served at Barber & Blade at One&Only Reethi Rah - a delicious gin & tonic with fresh lemongrass and cucumber.
Alfonso: To switch off after a long day, I would say enjoy a warm bath, followed by some music of your choice and a shot of Tequila – this is the closest relaxing experience to Barber & Blade that can be created at home.
8 - What are your top three wellness tips for males during this period?
Akram: My top three tips would be to 1) keep your hands clean!; 2) use a good face scrub twice a week to keep your skin fresh and 3) take a moment to switch off from technology instead of sitting in front of screens all day.
Alfonso: 1) Don't forget to clean the eyebrows, ears and nose, as well as shaving or delineating the beard and neck; 2) find a way to relax and switch off – perhaps it's with a shot of Tequila accompanied by a good book, or meditation or exercise and 3) - the most important thing – enjoy spending time with your family, either in person if you can or virtually.
Exclusively located at One&Only Reethi Rah in the Maldives and One&Only Palmilla in Los Cabos, Mexico, Barber & Blade is a gentleman's grooming studio featuring a collection of bespoke shaving, grooming and facial treatments led by esteemed, expert barbers.
Want to know more about One&Only Reethi Rah or One&Only Palmilla? Click on the hotels names or call one our specialists on 01244 322770!