The Italian city of Venice surely makes it onto every traveller's must-see list. It is a destination unlike any other, with a reputation for romance that surpasses even that of the Italian capital, or Venice's near neighbour that was the setting for Shakespeare's Romeo and Juliet.
Why is Venice so associated with romance? Well firstly, you can whisper sweet nothings into your beloved's ear without the sound being drowned out by traffic. The main tourist area of Venice is entirely car-free, which is most conducive to romantic wanderings by the canal at twilight, dinner à deux in an intimate trattoria, and watching the sun set over the buildings painted in the softest ice cream colours.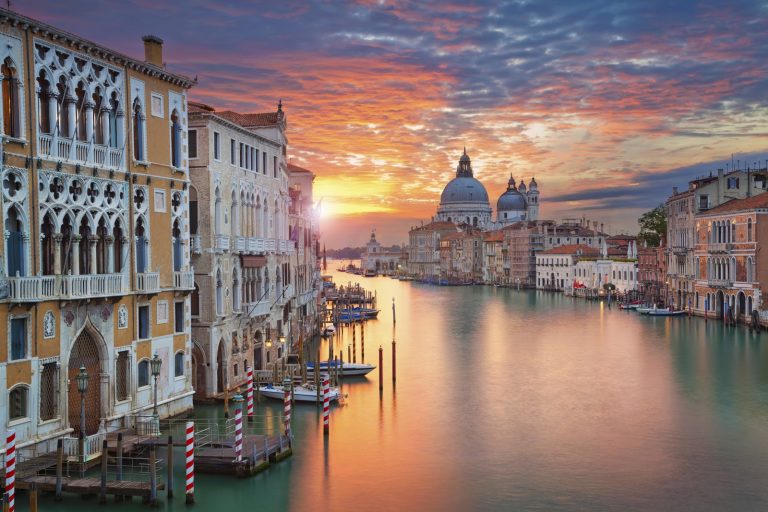 Apart from near silence, there's the all-encompassing presence of the water. There is literally a canal around every corner in Venice. Your hotel is very likely to afford you some sort of vista of one canal or another, so you can watch the gondoliers serenading their clients as they punt along the water. Wandering the cosy, cobbled lanes of Venice is one of the pleasures of a visit to this beguiling city, and the shimmer of the water at the end of an alley or far corner of a square is as enticing a sight as you're likely to behold anywhere on earth.
The city's squares are another big draw for those visiting Venice. St Mark's in the biggest and best known, and is home to the Basilica di San Marco as well as some ancient coffee shops that are packed with local character. Close by and right on the waterfront is the Palazzo Ducale, a magnificent gothic structure with a distinctly Venetian twist, not least in its pink marble and white stone facade.
If the food of love for you involves exquisite pastries, delicious pasta dishes, freshly stone baked pizzas and gelato in every flavour, you can imagine then Venice is simply paradise. Shy away from the main tourist routes and stumble upon your very own secret little osteria or ristorante, where ordering from a menu you cannot quite decipher is all part of the fun.
When was Venice built?
So that's a flavour of Venice to tempt your travel tastebuds – but how did it all begin?
Somewhat unusually for Italy, the decline of the Roman Empire was followed by the formation of Venice. The lagoon's islands were initially home to salt workers and fishermen, who were joined by refugees from the mainland when they were driven out by the Lombards. In 584 Ravenna was created, with representatives from the islands forming part of a Byzantine authority. In 641, the city of Oderzo on the mainland fell to the Lombards. By 727 Venice had elected their very first duke, and there then followed a period of political strife, during which pro- and anti-Byzantine groups struggled for power.
Finally, the doge (duke) joined forces with the Italian Franks and thus succeeded in freeing Venice from Byzantine control. Trade grew rapidly, and Venice dealt with nations all over Europe and the Middle East, at one point claiming Constantinople (now Istanbul). During the 9th century, Doge Domenico Contarini oversaw the construction of St Mark's church, which was intended to convey the indomitable Venetian spirit as well as providing a place of worship.
At this time Venice had a very cosmopolitan mix of residents, including Armenians, Greeks, Turks and Germans, as well as Jews who had been banished from elsewhere. The city's architecture still displays influences from a vast range of cultures and styles today. The Basilica di San Marco is much admired for its domes decorated in gold mosaic, and the building features a Greek cross, Roman archways and Islamic style stone floors.
As Venice conquered new territories, new booty was displayed on the iconic church, so the building features Roman bronze and Egyptian marble, and shifted in style over time, beginning with Gothic and ending in Renaissance architecture.
During the 12th century Venice developed its very own style of Gothic architecture in an attempt to compete with other European cities such as Paris, and in the 13th century vast swathes of Romanesque and Byzantine structures were replaced with grand Venetian Gothic buildings. In later centuries, Renaissance was all the rage, then this was in due course followed by Baroque and Neoclassical styles. All of these are evident in Venice today.
When to visit Venice
The best time to visit Venice very much depends on what you want from your trip to the city of love. Do you want to wander hand-in-hand in secluded silence? Or would you prefer to party with the hordes during the world-famous Carnival of Venice? Are you planning to spend your time sightseeing, or do you want to enjoy some scorching Italian summer weather?
Venice Carnival takes place early in the year, usually during February, but the dates do change in line with Easter as the carnival draws to a close with the advent of Lent. The most notable and best-known nature of Carnevale is the masks, which are intricate, colourful, incredibly detailed and a breath-taking sight to behold. If you don't mind the cold – and at the crowds – a visit during the Carnevale di Venezia is unforgettable.
Apart from the February carnival season, the best times to visit Venice are during spring and autumn. It is not too hot for sightseeing during April, May, September and October, nor is the weather too chilly. If you'd rather shiver in near-silence, avoid the crowds by planning a trip during winter, when the icy air gives romantics the excuse to huddle together and enjoy the cosy conviviality of Venice's indoor spaces.
If you do visit during summer, do not despair. July and August are undeniably busy, but for some this only adds to the atmosphere. Venice's position by the coast ensures it is not a hot as other inland Italian cities, so you needn't swelter as much as you might elsewhere.
Whenever you can spare the time, do make sure you go to Venice. There's nowhere quite like it on earth, and this is certainly a city that, once visited, will never be forgotten.