A friend, colleague or family member is getting married abroad – how exciting! While you look forward to the big day, it's time to start planning your trip. There's a lot to consider with overseas weddings, from the climate and weather to the culture. You'll need to put some thought into what you'll wear, as well as what you'll pack for the rest of your trip.
Here's a quick guide to some of the most popular overseas wedding destinations, with tips on what to wear for the big day…
What to wear to a beach wedding
When couples dream of overseas weddings, they often see themselves on a beautiful sunny beach. Locations such as Halkidiki in Greece are ideal for beach weddings closer to home, with lots of sunshine, sandy beaches, stunning scenery and plenty of amazing photo opportunities.
Meanwhile, couples wanting a romantic getaway somewhere more exotic tend to head for Hawaii, the Bahamas, the Maldives and the Caribbean. These destinations offer once-in-a-lifetime experiences for newlyweds and their guests, and they're also perfect for honeymoons.
If you're attending a beach wedding in the height of summer, adequate sun protection is key. Stylish hats and sunglasses are essential – as is plenty of sun cream. Greece is a very hot country in summer, while spring and autumn can be warm and pleasant (although there is a small chance of rain). Tropical islands, as their name suggests, offer tropical warm temperatures and hours of lovely sunshine.
Light and bright colours are perfect for beach weddings, as are light, floaty fabrics that will keep you cool, such as chiffon, cotton, linen and organza. Many beach weddings are quite informal, so you may even be encouraged to go barefoot and feel all that lovely sand under your feet!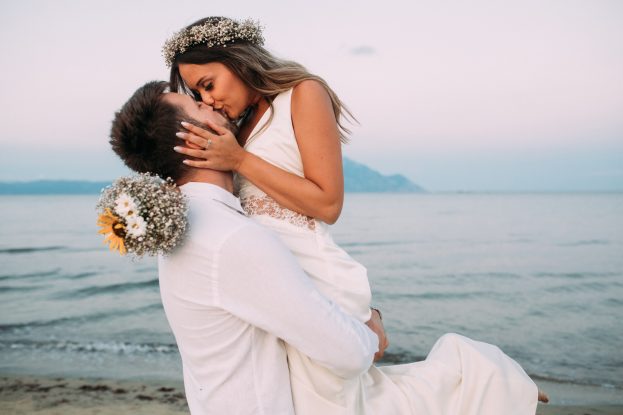 What to wear to a wedding in Italy
Italy has a lot to offer if you're dreaming up the perfect wedding, or looking forward to attending one. From romantic Venetian canals and soft sandy beaches to great lakes, mountains and gorgeous countryside, there's something for everyone. And of course, you can look forward to enjoying some of the best food in the world at the reception.
When planning what to wear to a wedding in Florence, Rome, Tuscany, Sicily or anywhere else in this beautiful country, understated elegance is everything. Italy is an extremely stylish country, known for its culture as well as its shopping, so it's best to choose something simple and understated and that fits you perfectly. Avoid black or white – colours not typically worn for Italian weddings – unless you want the locals tutting at you!
Italy in summer can be blissfully hot. If you're attending a June wedding, dress for the heat in breathable fabrics. If the wedding is in a church, remember to cover up with a shawl or light jacket, as the wedding ceremony is a sacred event in Italian culture. Temperatures in many Italian destinations can also drop at night, so be prepared with a jacket or shawl so you can enjoy evening drinks on the veranda of the wedding venue without getting too chilly.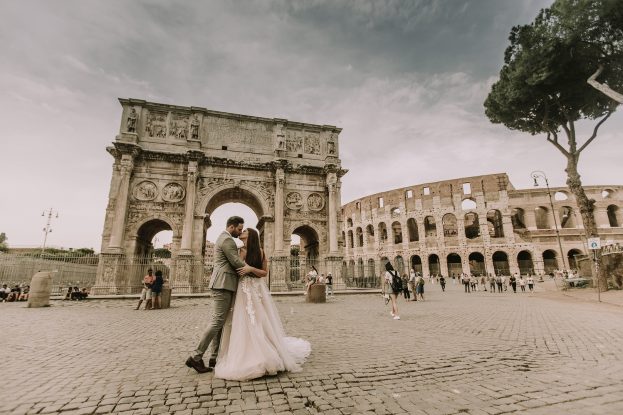 What to wear to a wedding in Jamaica
Jamaica is one of the most naturally beautiful islands in the world, with breathtaking beaches, tropical gardens, amazing wildlife and crystal blue waters. You certainly won't be bored if you're attending a Jamaican wedding, as there's plenty to see and do. There's fresh seafood, live reggae, plenty of rum punch and amazing attractions including Dunns River Falls and the world-famous Seven Mile Beach. You'll enjoy white sands, coconut palms and laid-back island bliss.
The tropical warm weather means that your friends or loved ones can tie the knot in the sunshine at any time of the year. Many couples get married on the beach, and there are even beaches that can be privately hired just for weddings.
If you're packing your suitcase for a Jamaican wedding, feel free (depending on the wedding theme and dress code) to embrace bright colours, prints and a touch of sparkle. Jamaica has a vibrant culture and loves a party, so you'll be in good company.
While Jamaica tends to be warm or hot nearly all the time, it can become much cooler in the evenings depending on the season. If you're planning a day-to-night wardrobe for your Jamaican adventure, remember to pack a cover-up or jacket of some kind as the party carries on into the night.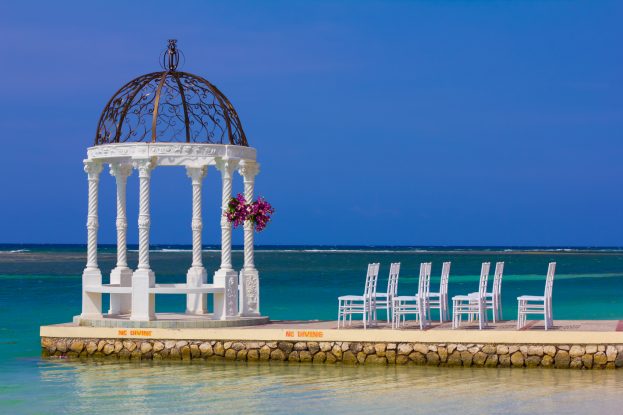 What to wear to a wedding in China
China is a huge country bursting with culture, history, natural beauty and incredible food, so it's understandable that so many people want to get married there. If neither partner is Chinese, you may not be able to officially register the marriage but you can still have a beautiful ceremony and a fantastic party.
If you'll be attending a ceremony, or maybe even an authentic Chinese wedding where one or both parties of the happy couple is Chinese, it's important to bear Chinese culture in mind. When shopping for a wedding outfit, there are certain customs that guests should remember, including:
Not wearing red – in Chinese weddings, the bride will often wear a red dress, so it's considered bad form to show up in this colour as a guest. Some brides have two dresses, one red and one white, so white is best avoided too.

Not wearing black – this colour can be considered to be bad luck for the newlywed couple.

Wear warm tones – colours such as pink, peach and purple are great colours for Chinese weddings, as they all symbolise happiness and new life in Chinese culture.
There's certainly plenty to see and do in China. If you have time before or after the wedding, try to get out and see some of it. For weddings in Beijing, you can visit a section of the Great Wall of China, the Imperial Palace, Tiananmen Square and the Heavenly Temple. Over in Shanghai, you can stroll in the historic Huangpu Park and the Yu Garden (known as the Garden of Happiness), and visit the Jade Buddha Temple