Whether you've planned a beach escape in the sunshine or an exciting ski holiday on the slopes, packing for an upcoming trip can seem like a challenge. Fortunately, there is help at hand. For tips and advice on what you may need for these types of holidays, as well as what you should include in your hand luggage, take a look at our packing guide below.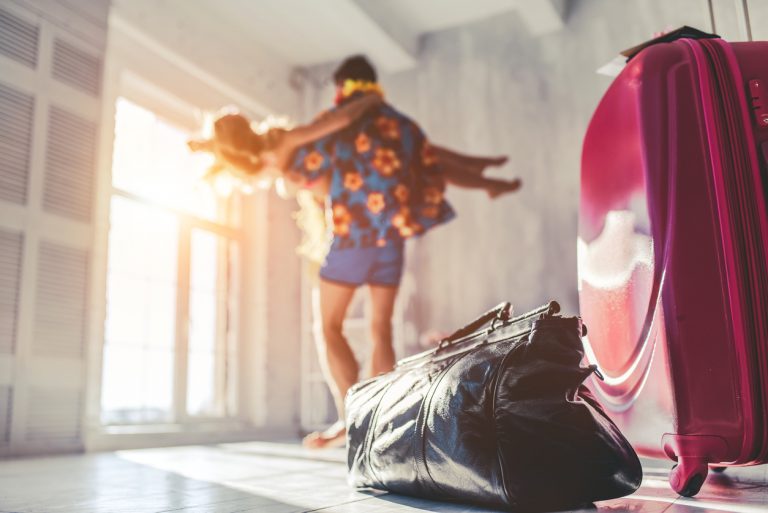 What to pack for a beach holiday
If your summer plans involve jetting off on a relaxing beach holiday, it's likely you can't wait to feel the soft sand between your toes and the warmth of the sun's rays on your face. However, before you board the plane, it's important to make sure your bags are packed with everything you're going to need while you're away.
To help make the packing process a little easier, we've broken down all of the must-have items you should be putting in your suitcase.
Travel essentials
Especially if you're boarding a plane to reach your destination, there will be a few travel essentials you'll need to have to hand as you make your way through the airport. You may find it easier to keep these items in your hand luggage, such as a backpack or small handbag.
Passport

Boarding passes

Flight/accommodation/car rental confirmation

Travel insurance documentation

Currency/travel money card

Neck pillow

Eye mask

Mobile phone (fully charged)

Headphones

Reading material for the flight
Clothing
Your holiday wardrobe is important, so it pays to think about which pieces of clothing you might  want to take with you. Whether you plan on being horizontal on the beach the whole time or you're keen to wander around the local area, try and pack different outfit options based on your plans.
Shorts

T-shirts

Lightweight trousers

Dresses

Shirts

Evening wear outfit options

Sweatshirt/cardigan/light jacket

Swimwear

Underwear

Nightwear
Accessories
Once you've sussed out your outfit choices for your beach getaway, it's time to add those all-important holiday accessories to your suitcase.
Sunglasses

Flip flops or sandals

Beach coverup

Beach towel

Beach bag

Sun hat

Mobile phone charger

Table device

Magazines/books

Hair styling appliances, such as a hairdryer

Travel plug adapters
Toiletries
So that you look and feel your best each day of your holiday, it's crucial to pack a selection of toiletries. While most hotels provide some of these essentials, not everything will be available, so it's worth packing your most-used personal care items just in case.
Toothbrush and toothpaste

Deodorant

Hairbrush

Shampoo and conditioner

Shower gel

Shaving foam and razor

Moisturiser

Make-up

Sunscreen

Aftersun

Insect repellent

Medication, such as plasters, paracetamol and any medicines you take regularly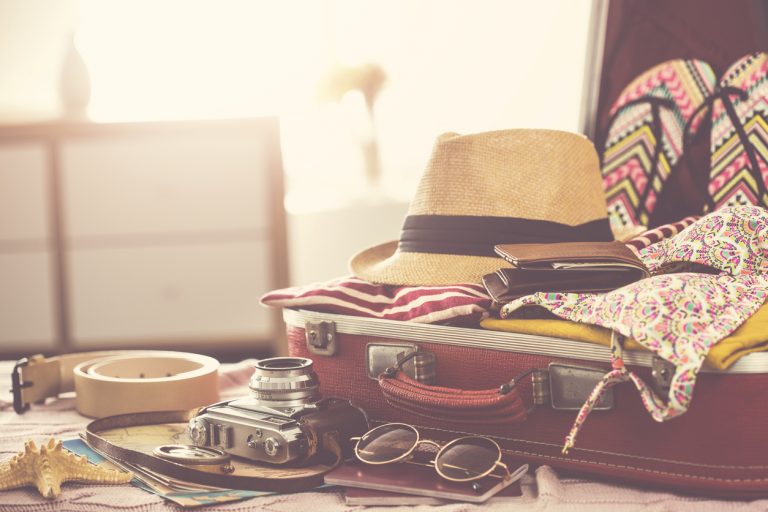 What to pack for a ski holiday
Eager to get on the slopes and practise your best techniques? A ski holiday is every adrenaline junkie's idea of the perfect getaway. The truth is, packing for this type of trip can seem daunting – especially as there is so much to include in your case.
To make this process easier for you, we've broken down the essentials you'll most likely need, from warm clothing to the right skiing equipment.
Clothing
Keeping warm and dry is a must during a ski holiday. Packing the appropriate clothing will ensure you feel comfortable as you're slipping and sliding down icy, snow-capped mountains.
Ski jacket

Thermal trousers

Waterproof gloves/mittens

Ski socks

Fleeces

Thermal tops/jumpers

Neck warmer

Warm hat/beanie

Scarf

Underwear

Nightwear
Skiing equipment
Unless you plan on renting this equipment at your resort, it's important to make sure you have all of the ski equipment you're going to need. You should also check that all your ski gear is in tiptop condition and securely packed away, especially if it'll be going into the hold of the plane.
Skis

Poles

Helmet

Goggles

Ski boots

Ski bag
Accessories
Aside from the appropriate clothing and your ski equipment, there are a few travel extras you might want to include in your suitcase too.
Lip balm with SPF

Sunscreen

Sunglasses

Rucksack

High energy snacks

Games, such as playing cards and travel size board games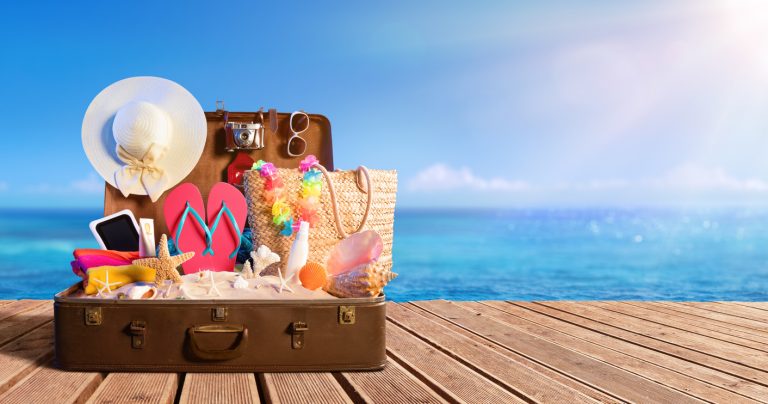 What to pack in your hand luggage
Whether you're heading off on a quick city break or a two-week holiday further afield, making the most of your hand luggage allowance is a must. To help you suss out what you should include in your carry-on for a travel experience that's smooth from start to finish, keep reading.
Passport and travel documentation
As obvious as it might seem, it's a good idea to keep your passport and travel documentation within easy reach in your hand luggage. You'll need these at several points throughout your time at the airport, from check-in to boarding the plane. There's a good chance you'll need to show your passport at customs when you reach your destination too, so make sure you keep this on you at all times.
It's also worth keeping your flight, accommodation, travel insurance and car rental confirmation in your hand luggage as you never know when you might need to refer to this paperwork.
Money
Keeping your money close to hand is a must. It's useful to have enough money on you to take care of any transactions you might need to make before you leave, whether it's paying for airport parking, picking up a treat for yourself in duty free or grabbing a quick bite to eat before your flight.
You should also make sure you have your foreign currency within easy reach too. This can come in handy when you reach your destination – especially if you need to catch a taxi or bus to your accommodation.
Electronics
To save them from getting damaged in your hold baggage, packing valuable and delicate electrical items in your hold luggage seems like a no brainer. However, it's important to be aware that there are some rules around this.
The good news is, you are allowed to include electronic devices such as laptops, tablets, hairdryers, straighteners, electric shavers and travel irons in your hand luggage – but it's worth checking with your airline before you travel as they may have their own restrictions in place about what you can and cannot take onboard.
It's likely you'll be asked to remove any electrical devices from your hand luggage during the airport security process, so you might find it useful to keep these items close to hand so you can reach them quickly and easily.
You should also make sure that your electrical devices are fully charged. If you cannot switch on your device when requested, you may not be allowed to take it onto the aircraft.
Liquids
There are strict rules in place regarding the amount of liquids you can take in your hand luggage, so it's important that you're up to speed before you travel. You should make sure that any liquids are in containers that hold no more than 100ml, and they must be placed into a clear, resealable plastic bag that is no more than 20cm by 20cm in size.
The contents must fit into the bag comfortably so that it can be sealed, and you are limited to one bag per passenger. You'll need to show this bag at the airport security point.
It's also worth noting that the term 'liquids' can refer to any of the following:
Cosmetics, such as lip gloss and mascara

Toiletries, including as perfume, lotions, creams, oils, toothpaste and shower gel

Sprays, including hairspray, deodorant and shaving foam

Contact lens solution

Liquid or semi-liquid food, such as honey, jam and soup

All drinks, including water
However, there are some exceptions to this rule. For example, you can take the following in your hand luggage in containers that are larger than 100ml:
Baby food or milk

Essential medications

Food or drink for special dietary requirements
You can find a full list of the liquids you can and cannot include in your hand luggage online.
Medication
Your health is paramount, especially when you're travelling, so it's important that you pack any medications you take regularly in your hand luggage. This can include items such as tablets, liquid medicines, inhalers and medical equipment. To avoid any potential problems at the airport security point, you may also want to obtain a supporting letter from your doctor before you travel, as well as a copy of your prescription.
A change of clothes
Especially if you're flying long-haul, packing a change of clothes in your hand luggage is a must. After you've been sitting for a long period of time in the stuffy confines of an aircraft cabin, slipping into a clean outfit can make you feel instantly refreshed and ready for the exciting adventure that lies ahead.