Booking a ski holiday ? Once you've decided which breathtakingly beautiful destination to choose, whether it's the Swiss Alps, Colorado Rockies, Les Trois Vallées or the Italian Dolomites, the next step is to book your accommodation. There are a few options available, including hotels, chalets and cabins. The difference between each type of accommodation is not always clear, and you'll also need to choose your board basis - so let's make it a little easier.




Catered chalet ski holidays are an ideal choice for your next break. They are becoming increasingly popular, and it's easy to see why. They offer the chance to fully relax and enjoy your ski break without having to worry about cooking. All of your meals are fully covered, so all you need to do is enjoy the scenery, strap on your skis and have a wonderful time. You can spend more time on the pistes and give yourself over to some well-deserved pampering in the evening.




What's more, the culinary standard in many of the world's best and most famous ski resorts can be absolutely incredible. This means you can look forward to exquisite fine dining prepared by talented chefs, and you'll even get to sample some of the most delicious traditional dishes from the region. It's a step up in luxury, making your holiday even more of a special experience.
What is included in a catered chalet holiday?




Not all catered chalet ski holidays are the same, so it's important to find out what is included before you book. Some holidays offer meals with a high calibre chef in a well-appointed restaurant or communal table. Here you can meet like-minded people and perhaps even make new friends over a delicious authentic Swiss feast.




Others offer additional options, such as private, romantic meals for two in your room. You may be invited to discuss the menu with the chef at the start of the day and make suggestions based on your favourite things, and you can rest assured that all dietary requirements are catered for.




Many catered chalets will provide a hearty breakfast to set you up for a high-energy day on the slopes, as well as afternoon tea, a three or four course evening meal and coffee with after dinner mints. You may be offered a cheeseboard on one or all of the evenings, along with aperitifs and canapes throughout the stay, and special meals and drinks if a one-off party or event is organised.




You really will be spoilt for choice on a catered chalet break, especially if you're staying in a chalet with an excellent chef - perhaps even one who has worked in a Michelin starred restaurant. You can expect true luxury, from Wagyu beef and caviar to oysters and Champagne. It's all there for your enjoyment, so bon appetit!



What is the difference between a cabin and a chalet?

When researching your holiday, you may come across cabins as well as chalets. The chalet has Swiss origins and is mainly found in ski and alpine regions, and you'll be able to recognise it easily by certain architectural features. For example, a chalet has a distinctively sloping roof and overhanging eaves. Chalets can also be more than one storey tall, which is why you often find chalet hotels and catered chalets where guests can enjoy their meals in a dining room (often with breathtaking views across the mountains).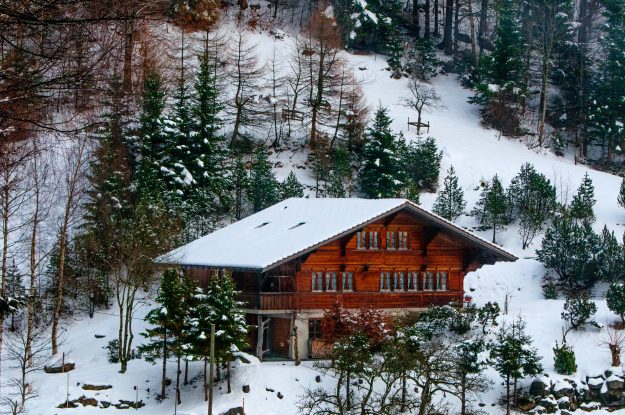 Cabins tend to be much simpler, although you can also find fully-equipped, modern and even luxurious cabins depending on the resort. They tend to be on one floor, with a log construction – where a chalet will be made from wood but not always logs. A cabin is ideal for a cosy weekend away, whereas a chalet is the perfect choice for a luxurious, get-away-from-it-all holiday. This is especially the case if you choose a catered chalet with amazing gourmet food and plenty of facilities such as spas and pools.
The best catered chalet resorts for fine dining
If you can't imagine your holiday without incredible cuisine, you'll need to pick your destination carefully. The most luxurious resorts attract the best chefs, and offer their guests a higher level of dining. You can't go wrong with the following resorts, most of which offer catered chalets and all-inclusive options:
This incredible winter playground is world-famous for its peaks, but it's also home to several 5* hotels and chalet complexes. You can't move for wonderful facilities, from luxury bars to restaurants, nightclubs and sumptuous spas.
·   Aspen, USA
This famous Colorado town is skiing central in this part of the world, offering four world-class mountains, plenty of snow activities and impressive diversity of terrain. If you're looking for fine food, book a catered chalet stay at one of Aspen's five-star hotels and you'll enjoy every comfort and luxury you could want on your ski break.
·   St Moritz, Switzerland
Arguably the most legendary ski resort in the world, St Moritz has been delighting the rich and famous for over 150 years. It's known globally for its elegance and style, which extends to the world-class facilities, fine food and endless choice of activities within its luxurious selection of fabulous hotels and catered chalets. St Moritz is beautiful, buzzing and pioneering – a must-visit.
·   Cortina d'Ampezzo, Italy


While not as famous as other ski resorts such as St Moritz, Cortina in the Italian Dolomitic Alps is hugely popular for its après-ski scene. Known as the Queen of the Dolomites, the historic Cortina also boasts luxurious VIP facilities, attracts plenty of famous and aristocratic faces and being in Italy, offers fantastic gourmet food.
·   Megève, France
This is one of the most famous ski resorts in France. Along with Courchevel, Megève attracts celebrities, royals and avid skiers from all over the world. It's an authentic mountain village with bags of charm and five-star hotels which offer a fabulous combination of haute cuisine, tradition and exceptional hospitality. If you're looking for something different, you'll love the chic and casual feel of Megève.