Fancy a World Cocktail Day treat? Why not make your own 'Cape of Storms' cocktail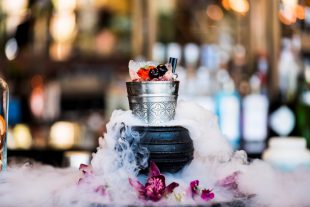 Recipe:
50ml Tanqueray No. 10
50ml Pineapple juice
25ml Grapefruit juice
25ml Monin Falernum syrup
0.5ml Egg white
Dry ice to serve (optional extra)
For garnish:
Seasonal berries
Strawberry Syrup
Method:
Combine all the ingredients in a shaker with ice
Shake vigorously and strain into a glass
Top with crushed ice and garnish with seasonal berries and a drizzle of strawberry syrup.
Optional - set cocktail glass inside a slightly wider glass or container, filled with a few blocks of dry ice. Pour hot water in the gap between the two vessels, and onto the dry ice -  creating the ultimate "tablecloth" effect for this dramatic and stormy cocktail

The story behind the cocktail: The Cape is historically known to have very stormy seas, and in the 15th century sailors from Portugal termed it the "Cape of Storms". This name stuck, and to this day, it is used – mainly endearingly – to describe Cape Town during its winter months. Another age-old weather-related term, is given to the thick cloud that often rolls over Table Mountain and descends towards the city. As it covers the mountain, often very symmetrically, it is fondly referred to as the "tablecloth" of Table Mountain. With these two tales in mind, Elton Fortune, Head Mixologist, named this mixology creation; as the dry ice spilling over the rim of the glass creates the effect of a billowing "cloud".
To find about more about One&Only Cape Town click here or call one of our specialists today on 01244 322770!