If you're looking for somewhere to go for a memorable and fun-filled family holiday you'd probably not automatically think of heading to a gloriously elegant and richly historic five star castle surround by vineyards, nestled deep within the Tuscan countryside. Reading a brochure which describes how the history of Belmond Castello di Casole stretches back to the Bronze Age, and how more recently it's played host to glitzy film stars and royals would likely not help to convince you that it would be a great place to rock up with several small people in tow.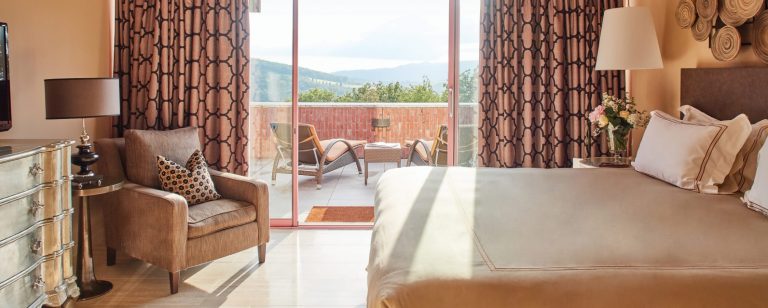 But the team at Belmond are very keen to welcome younger visitors to their lovely hotels, with a focus on creating and curating the most magical experiences – designed to delight, whatever your age.  And what better way to showcase this than with a parent trip that kicked off on one of the days of the year that's most eagerly anticipated by youngsters, and those who are young at heart – Halloween. My twelve year old son, Joey, and I travelled with four fabulous agents and their six children of varying ages, flying into Pisa airport on the morning of the 31st of October.  We were transferred to the Belmond Castello di Casole, arriving via the most picturesque avenue of lime trees and check-in was followed by a light lunch. 
At this point in the day, the hotel hadn't been decorated for Halloween, and it was amazing to watch the transformation as dusk started to fall, with dozens of candles flickering spookily over the ancient castle walls and the most enormous pumpkins I've ever seen – all grown locally and brilliantly carved. It all looked incredibly atmospheric.
The children looked incredible too, dressing up in masks and white make-up as they disguised themselves as ghouls and ghosts for the Halloween themed dinner. They had an absolute ball.
The food here is deliciously simple and rustic, a mixture of traditional Italian recipes and modern twists, with special menus designed to appeal to adults and children alike. We never stopped eating during the entire trip, except for when we were out actually searching for our food that is.
 After breakfast on day two, we set out on a truffle hunt on the stunning 4,200 acre estate that surrounds the hotel. Tuscany is famously home to the finest truffles in the world and we were led by an expert guide who was ably assisted by the most adorable and clever dog, called Angie. She's a Lagotto Romagnolo, a beautiful Italian breed that's a cute cross between terrier and poodle and has been specifically bred to snuffle out truffles. Though highly experienced and focussed on her job,  Angie was also a very friendly and playful pooch, and all the children loved her. They had a great time getting to know her and learning about her work.
Angie helped us to hunt out a good collection of rare black truffles which we ate later at a five course meal, with a truffle-inspired menu, enjoyed in the cool surrounds of Bar Visconti bar, a lounge area overlooking the pool.
I did say we never stopped eating! Lunch was closely followed by afternoon tea, which took place in a woody wonderland setting that could easily have been presided over by the Mad Hatter himself.  The Enchanted Table was truly out of this world, surrounded by trees and adorned with candles and pretty flowers and entwining foliage, as well as delicious snacks – fruit, sandwiches and delicacies. Lanterns and a magnificent gothic chandelier hung from the boughs, and there were beanbags to relax on beneath them.
Next day was all about cheese, another very special experience. We travelled to Podere Pugnano farm, where we met cheesemakers Giovanni and Giovanna, a husband and wife team, who showed us around their farm, and introduced us to their sheep and Sardinian goats. We enjoyed seeing all the little kids and finding out about the different processes used to produce cheese, including the Pecorino Marzolino di Lucardo which is still made to the original recipe found in a 14th-century novel. Our own kids loved this experience, which included the chance to sit in the farmhouse kitchen with the family and enjoy a delicious fresh, home cooked lunch with them.
While it's lovely to be surrounded by aristocratic comforts and elegance, it's also wonderful to have the chance to become immersed in a country's real culture and meet local people. This farm visit literally gave us a true taste of authentic rural Italy.
We left just enough room for a sumptuous farewell dinner,  again with menus specifically designed for smaller people's tastebuds. We were so sad to leave next morning, but took home the most wonderful memories to treasure and I know the children all had the most fantastic time. Even the weather, which wasn't great, didn't dampen our spirits. Joey and his friends loved diving into the serene heated outdoor pool, regardless of the rain.
There's no doubt that Belmond Castello di Casole is one of the most romantic and captivating hotels in Siena, with beamed ceilings, stone walls and luxurious fabrics filling it with Tuscan charm. But the beautifully restored rooms and suites are also lovely country living spaces for families and the hotel is a bewitching backdrop for the best adventures.
Me, Joey and our friends created some wonderful memories and I'm sure we've set the benchmark by which all our future Halloweens will be measured.  We made new friends, including four-legged ones too. However the spooky banquet and truffle hunt with Angie are just a couple of experiences available at this hotel. Others include wildlife safaris offering encounters with wild boars and porcupines, hot air ballooning, river rafting and biking tours.  Our only regret is that we didn't have more time.