Landing at Paphos International Airport, I had to pinch myself to check this wasn't a cruel dream and I was actually going to spend 5 glorious days in Cyprus, looking at a different patch of sky and taking a much-needed break from all forms of social media and emails.
Having heard and read so many reports about landing restrictions and requirements, I have to admit to feeling a little bit confused about it all. So with great trepidation, I carried proof of my negative COVID-19 test results and my Cyprus Flight Pass (completed online within 24 hours of departure) and stepped into the Cyprus sunshine. Wow! It felt great to be on holiday again!
Not being blasé but I needn't have been so anxious. The arrival procedure was super-efficient and took approximately 30-45 minutes from leaving the aircraft to getting into our pre-booked COVID-safe transfers and this included luggage collection and extra COVID checks in place. And what's more, within 20 minutes we had arrived at Constantinou Bros Asimina Suites Hotel, our social-media free home for the next 5 nights. Our hotel transfers felt safe with the use of masks and privacy screens and check-in was super easy with us being welcomed into the VIP Lounge where we were offered a lovely welcome drink and canapes. Once we were ready, we were guided to our spacious suite which was located on one of the upper floors of the hotel giving us stunning sunset views. Wow! What a place to start my digital detox.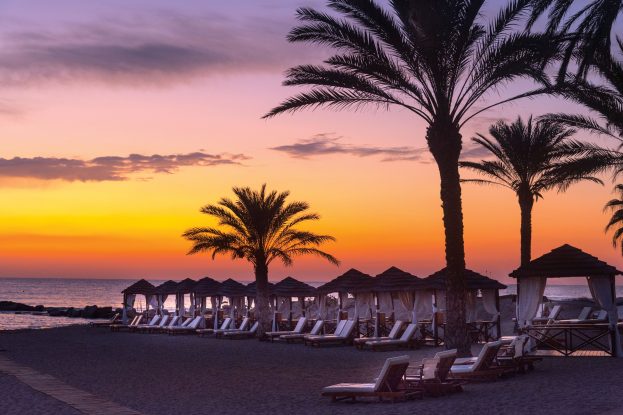 The hotel staff were faultless – without exception, they were all very friendly and demonstrated great attention to detail. I highly recommend upgrading to the Deluxe All-Inclusive package like we did; as well as including meals and drinks in all the hotel's restaurants and bars, daily replenishment of the Suite minibar is also included.. Around the pool area, all of the sunbeds are well spaced out in accordance to social distancing and staff were more than willing to help you with umbrellas. There is also a selection of cabanas (at the beach, pool and in the gardens) which are a fantastic touch, giving extra shade in the hot sun. Every day the Food & Beverage Manager comes around the pool and beach areas to offer each guest a daily smoothie and have a quick chat. It is worth noting that there is no sea access from the beach but from a floating pontoon and the sea is much calmer than other parts of Paphos due to the sea defences in place.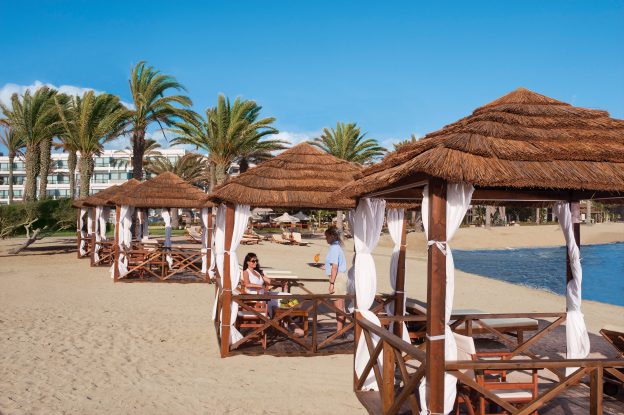 The hotel was busy but not full during my stay so we did have more choice of where to sit and lounge, however, even when the hotel is running at full capacity, it is clear that the safety of the guests is paramount to the owners, Management team and every single member of the staff as the new procedures include all the safety measures you would expect from a resort of this high quality. We felt that observing the 'new normal' at home had set up us in good stead for a relaxing and safe time in Cyprus.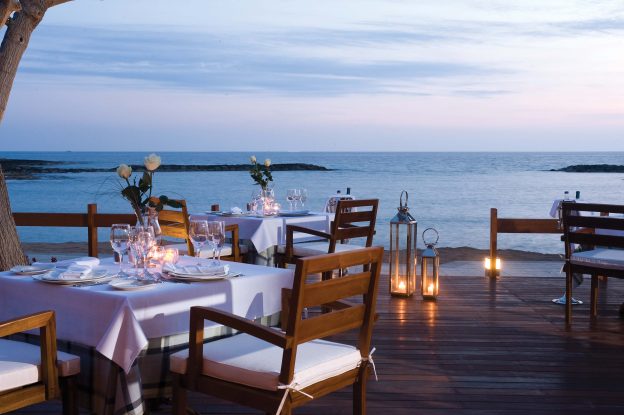 COVID Rules
There are a few rules that I observed while at the hotel.
Masks must be worn in lifts at all times.
Masks (optional gloves) must be worn at the buffet breakfast
Beach towels are put in your room every day for the following day and you leave your used towels on the sun loungers.
Staff have PPE on at all times.
Due to when I stayed, there was just the one restaurant open for lunch and dinner which was located outside so there was no need for masks.
Staff are extremely hygiene conscious. When you leave your table after lunch or dinner the tables and chairs are all sprayed and cleaned thoroughly.
The bathrooms around the hotel (at the pool and in the restaurants) are also extremely clean with a rota on display showing they are deep cleaned every hour.
I couldn't recommend both Cyprus and the Constantinou Bros Asimina Suites more to anybody feeling nervous about travelling during this strange time and it would be a great half term break for families just as much as it is ideal for couples.